Nicebadge in the News
Gibson Assumes SOREDI Presidency
August 1st 2008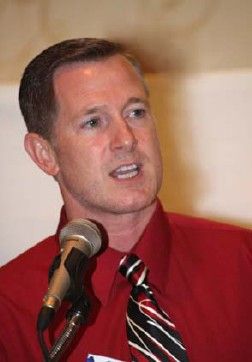 Lowell Gibson (pictured), owner of Recognition Specialties, has begun his two-year term as SOREDI president. In addition to having recently been named Business Champion of the year by the Grants Pass Business Retention & Expansion Committee, Lowell is also a former president of the Grants Pass/Josephine Chamber of Commerce and president of the Southern Oregon High Performance Enterprise Consortium.
Gibson assumes the helm from Alex Pawlowski of Medford. Joining Gibson on SOREDI's leadership team is Mark VonHolle, serving as vice president. VonHolle relocated to Southern Oregon from California's Bay Area in 2003. He serves as the vice president of S&B James Construction Management in Medford. SOREDI Board officers serve two-year terms. Also serving on the executive board is Dean Wendle as secretary/ treasurer, Dr. Peter Angstadt, RCC President and John Schwendener of Avista Utilities.
"I have a deep passion and commitment to our region," says Gibson, a fifth-generation native Southern Oregonian. "I've seen what can happen when a group of passionate folks get together to start a great organization like SOREDI"
"Lowell's excellent perspective on leadership and small business ownership will serve us well," says Ron Fox, SOREDI's executive director. "He will help us ensure our services and efforts are on the mark and meeting the needs of our local businesses."
Gibson officially began his term Wednesday at SOREDI's annual dinner, attended by over 260 regional business and civic leaders. The event, held at the Medford Red Lion, highlighted 21 of the region's most innovative and creative businesses, featuring presentations from Professional Solutions, Herb Pharm, Allyson's Kitchen, ICx Technologies and Rogue Valley Microdevices.