Nicebadge in the News
Press Release for SOHPEC grant
February 15th 2007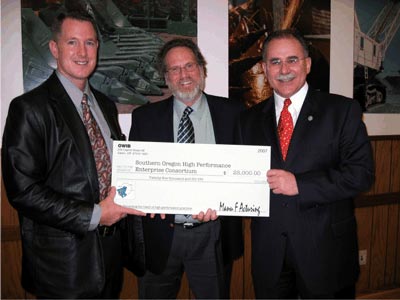 SOHPEC President, Lowell Gibson (of Recognition Specialties) – SOHPEC Vice-President, Lee Lanphier (of Lanphier Associates, Inc.) and Allen Alley, Deputy Chief of Staff, Office of the Governor – February 15th, 2007
SOHPEC awarded $25,000 grant to promote high-performance manufacturing practices among its members. Governor's office to announce grant at unveiling of major workforce initiative Portland, Ore.—February 15, 2007— Allen Alley, deputy chief of staff to Governor Kulongoski, announced at a public unveiling of the Oregon Manufacturing Workforce Strategy on February 15 that Southern Oregon High Performance Enterprise Consortium (SOHPEC) has been award $25,000 in seed funding to support adoption by the group's members of high-performance practices. High-performance manufacturing practices—such as lean manufacturing, lean accounting and value stream mapping—provide increased productivity, better financial performance and higher wages for workers. They also lead to reduced inventory, space requirements and labor costs. "We are very pleased to receive the grant, as it will help advance our goals to our give southern Oregon businesses a globally competitive edge by implementing High Performance techniques." said SOHPEC President, Lowell Gibson. SOHPEC is one of five manufacturing consortia to be awarded a $25,000 grant. Other recipients include the High Desert Enterprise Consortium, the Oregon Bioscience Association, the RV Consortium, and the Strategic Economic Development Corporation. Each submitted an application for the grant to the Northwest High Performance Enterprise Consortium (NWHPEC), the entity chosen by the state to manage the manufacturing workforce strategy. In addition to the grant money, SOHPEC will receive technical assistance from the NWHPEC. SOHPEC's member companies will also receive initial high performance training from the Oregon Manufacturing Extension Partnership. Oregon's manufacturing economy comprises 6,000 small- to medium-sized companies that are struggling to survive in the face of global competition. In the next decade, those manufacturers will need 53,000 skilled workers to replace retiring workers and fill new jobs. The state recognizes the importance of manufacturing to the economy: At $53,350, the average annual wage of manufacturing employees is 46 percent higher than the state average, and manufacturing is responsible for 15 percent of the state's output. This recognition led to development of the strategy. About the Oregon Manufacturing Workforce Strategy The Oregon Manufacturing Workforce strategy is a four-year plan to link regionally based "centers" of manufacturing activity across the state to share ideas and best practices; expand the reach of high-performance manufacturing practices and techniques to create more competitive companies; fill the skilled worker shortage by investing in training of current workers and attracting new workers to high-demand occupations; and raise awareness about the value of Oregon's manufacturing industry and its high-wage career opportunities. The Oregon Workforce Investment Board spearheaded the plan's development with assistance from public and private entities throughout Oregon. The Northwest High Performance Enterprise Consortium is managing the plan's implementation.
About the Northwest High Performance Consortium (NWPEC)
NWHPEC represents a cross section of Oregon and southwest Washington companies sharing best practices to enhance global competitiveness, helping keep companies and jobs in the Northwest. Since 2002, NWHPEC has been a resource for networking, learning, and experiencing high-performance manufacturing. NWHPEC hosts a number of educational events where attendees can share experiences and learn how to improve business practices and processes. Learning tours give members opportunities to see how other companies use high-performance practices. Its experience leading cross-industry consortia makes NWHPEC ideally suited to lead implementation of the Oregon Manufacturing Workforce Strategy.