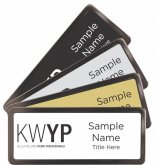 Your name badge should stand out from typical name tags. You need something that catches the eye and is memorable. It should also be legible from a distance and look professional. This is where NiceBadge comes in. Our chrome name badge collection provides a timeless, professional look that is sure to help you stand out from the crowd.
Beautiful, Lightweight Badges
Our chrome name badges come in a variety of styles and colors so you're sure to find one that best represents you. Each one is made from solid aircraft-grade aluminum and hand-polished which creates a gorgeous finish and provides more durability. The lightweight, versatile material allows lettering and logos to be easily seen from a distance. That way people know your name and who you represent before they even talk to you.
We Keep Your Badge Looking Brand New
Each of our badges is coated with a protective resin dome called NiceGuard. This coating not only adds a shine to your badge, but also provides more durability. Most traditional name tags don't have the same stamina as our name badges. Many lose their shine or become dented or damaged over time.

With NiceGuard, your badge will always have a clean, crisp look. The protective coating prevents it from yellowing or fading. The best part? It's self-healing, which means it won't dent or scratch. Your badge will always look brand-new, which is sure to attract people's eyes.
Take Pride in Your Badge
You're proud of the work you're doing and your name tag should reflect that. The clean, modern look of our chrome name badges provides that same sense of pride and confidence. From the legibility of your name to the eye-catching, durable material, our badges provide an extra dose of professionalism. Plus, the smooth, clean edges look fantastic against most professional attire.
Create Your Chrome Name Badge Today
You need an eye-catching, memorable name tag. Something people will remember when they reflect on their interaction with you. Nothing helps you stand out from the crowd more than a chrome name tag from NiceBadge. The modern look, the shine, and durable material are bound to get you noticed from across the room.

Contact us today and we'll help you get started!