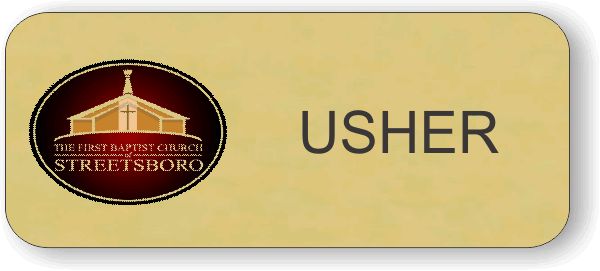 There are many different uses for name tags. There are name tags for businesses, restaurants, and something a little less common: usher name tags. Ushers are there to help people. As an usher, wearing a name tag is a great way to show people you are there to assist them and can help make your interactions more warm and welcoming.
Uses
There are various uses for usher name tags. These types of badges show authority for numerous positions and services. An usher is a very valuable position in big group settings. Some examples of this are religious services or events. However you use them, usher name tags are sure to improve the interaction between guests and ushers.
Styles and Colors
At NiceBadge, we want to make sure you get exactly what you're looking for. We offer a variety of different colors and styles. The possibilities are endless. The colors include:

White
Gold
Silver
Bling Gold
Bling Silver
Gold Prestige Pebbled
Gold Prestige Polished
Silver Prestige Pebbled
Silver Prestige Polished
The styles include:
Rectangular
Rectangular with round edges
Oval
Purchasing
After you pick the style and color and what you want the name tag to say, you decide how many you want. It's likely that you need more than one usher name tag for your church service, performance, or event. At NiceBadge, we offer single purchases or bundle purchases. Our bundle packages come in 10 or 25. When you are satisfied with your custom name badges, you can always order more.
Experience
At NiceBadge, we understand the importance of having nice usher name tags. We strive to create the best quality product to meet your needs. We guarantee that your guests or members of your congregation will appreciate being able to identify the people who assist them. This makes an overall greater experience.
Contact us at NiceBadge to order your usher name tags. Let us know if you have any questions and we will be happy to assist you.