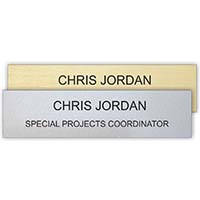 Custom office name plates give your company a professional look, so clients and customers see you as the expert authority you are. Place custom office name plates at front counters, in lobbies, at an employee cubicle, or anywhere else in your office.
Whether you're looking for custom desk name plates, engraved name plates, or any other type of personalized name plates, NiceBadge is at your service. We offer office name plates and personalized desk name plates in a variety of styles.
A Variety of Custom, Personalized Options
Choose from wood, plastic, or metals like stainless steel, brass, aluminium, and more. Order a generic name plate with an employee name and title, or get name plate holders that can be switched out and changed frequently. And if you're looking for the ultimate high-end statement, choose our heavy-weight, sand-carved marble desk wedge.
Add Value For Employees and Customers
Custom name plates have the ability to make your employees feel an added boost of confidence in their abilities. They'll feel appreciated and valued every time they look at their specialized name plate. Use custom name plates as an incentive and reward for your employee's hard work.

Clients and customers will also appreciate the placement of custom name plates, since they'll more easily find the person they're looking for and be able to identify areas within your business.
Get Started Today
If you're ready to order your custom name plates, contact us at NiceBadge today. We're happy to answer any questions you have and get you started with the perfect personalized name plates to meet your needs.