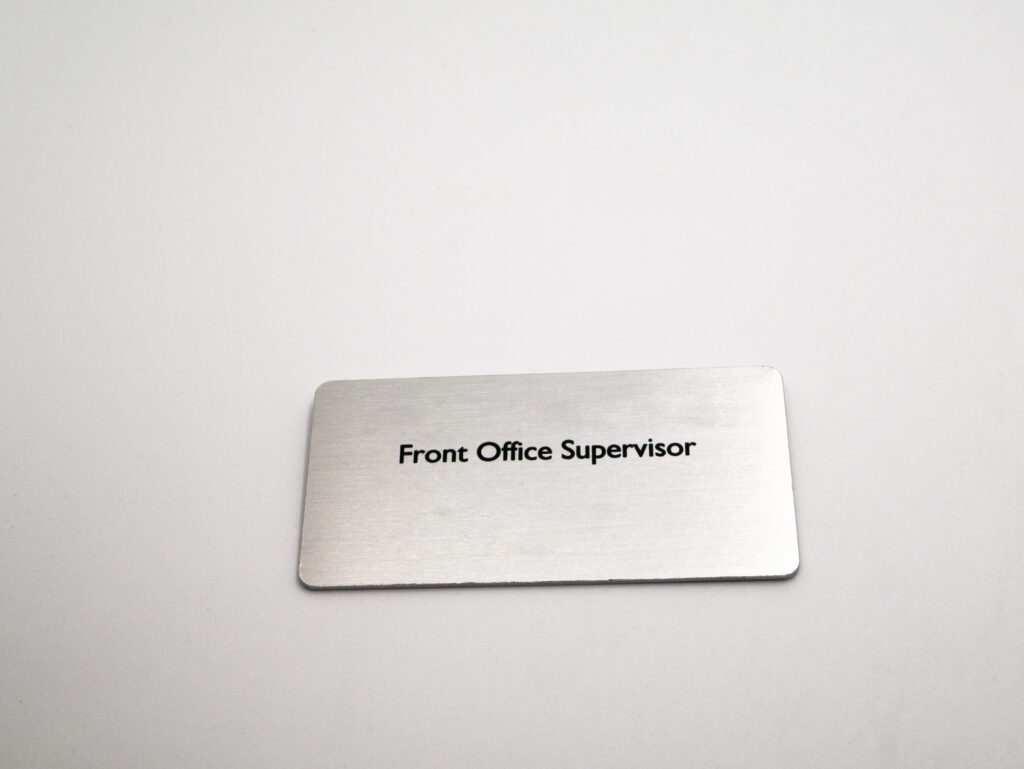 "Nothing is written in stone." Things are constantly changing. Laws get replaced by new laws. Your HR department has to rewrite policies. Each year, your team comes up with new strategies. And on and on.

At NiceBadge, we laugh at the idea that things shouldn't be written in stone! Or at least wood, metal, PVC, or leather. But saying "nothing is written in PVC" doesn't have the same ring to it.

The point is, your employees can have engraved name badges and feel that at least something is permanent. Even better, you can receive an order of brand new badges in just a few days! Make your employees excited and stand out in the minds of your customers.
What Sets Engraved Name Badges Apart?
At NiceBadge, we use several types of high-quality printing that we're proud of. But engraving is another option that might work well for your team. Imagine having wood, stainless steel, aluminum, leather, or PVC engraved with a laser—now that's permanence.

How do you get started? First, you pick your font and background material color. You can have 1–4 lines of text engraved, like your company name with each employee's name and role. We'll throw in free premium name badge fasteners to make sure they stay on. Reliable and permanent—that's us.
4 Benefits of Engraved Badges
Metal engraved name badges don't just look neat. They can help your organization by:

Enhancing Your Brand: Can you relate some part of your business identity to metal or wood or engraving, helping get your message across even in your badges? Probably!
Starting Conversations: Employees are more approachable for customers when their name and role are displayed.
Saving Time and Money: These durable name badges last a long time because there's no ink that can get scratched. You won't have to reorder them anytime soon.
Making Employees Feel Special: Employees think they're being treated like royalty with high-quality engraved name badges. 
We're having fun here, but we have some seriously good deals for you. Once you set up your account, you can order any number of badges you want with no required minimums. Check out our FAQ for more info, then contact us with your personalized information, and get your engraved name badge order started.