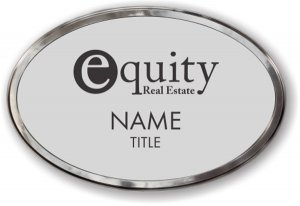 When you work for a leading real estate company like Equity, you want to show how proud you are of that strong affiliation. You also want to stand out from the crowd and let people know who you are and what you represent. To get all that across to people quickly, nothing does it quite like a noticeable and memorable name badge from NiceBadge.
We Help You Stand Out
We make real estate name badges for leading companies like Equity to help them show off their brand. You stand out from the crowd by putting in a lot of work to satisfy your clients. A personally crafted name badge will help you stand out at first glance.
Make the First Impression You Want
As a dynamic professional who provides quality work and innovative ideas, you want to let people know what you are about by showing off your strong company affiliation. Quality real estate name tags from a reliable company like NiceBadge will help you make the first impression that is so important in your line of work.
Show off Your Team Pride
There is a lot of competition out there for real estate clients. Having a strong firm with a solid reputation behind you is key to winning the confidence of your clients. You can let them know that a great company is behind you and your efforts when you proudly display your logo on real estate name tags from NiceBadge.
Get Your NiceBadge Today
We know you are busy. That's why we offer the best customer service and a quality experience for all of our customers. You get treated the way you treat your clients, so get a well-crafted name tag you can wear with pride. Contact us today to make your order.